A recent survey was conducted by bankrate.com on how 1000 Americans felt about their financial security. Some of the results might surprise you. For fun let's play along and see how we stack up to the respondents answers
Do You Feel Financially Secure?
These are real questions asked over the telephone in June 2012 to 1000 Americans. I'll answer the question and then give the results of the survey.
How much do you have in emergency savings (checking, savings, money market)? 
None
0-3 months
3-5 months
6+ months
None of your business!
For us we'd be in 3-5 months range, but if we add in our allocated savings account the answer would be 6+ months.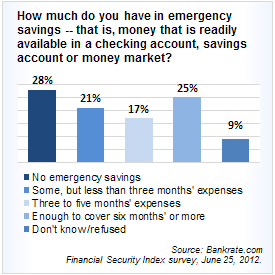 How do you feel about your job security compared to 12 months ago? 
More Secure
Less Secure
Same as 12 months ago
I'm a robot and don't have feelings.
I'd have to answer more secure. Since 12 months I quit my steady paycheck day job and have found that I can make it as an entrepreneur.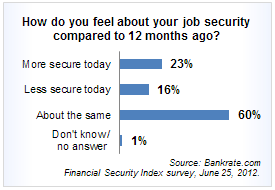 How do you feel about the amount of debt you have compared to 12 months ago? 
More comfortable.
Less comfortable.
About the same.
Don't know.
We had no debt 12 months ago and none today so #3 same for us.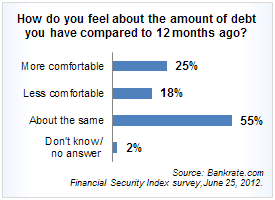 Compared to 12 months ago your total net worth (assets-debt) is:
Higher.
Lower.
Same.
Don't Know
Our total net worth is lower due to pulling money out of savings for a few months.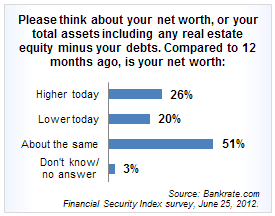 Compared to 12 months ago do you feel your overall financial situation is:
Better today.
Worse today.
About the same.
Don't know.
Our overall financial situation is probably worse today than 12 months ago as I build my business(es), but we are much happier and have the freedom to do what we love.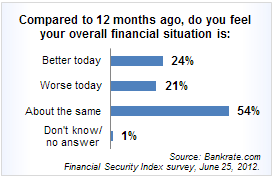 How did your answers stack up to the survey? 
Related posts: